Der findes i dag flere forskellige typer, former, størrelser, længder og modeller af snowboards. Har man ikke været i snowboard verdenen i mange år, kan det nemt føles som noget af en jungle, når man skal købe sig et snowboard.
Få styr på det vigtigste, på 3 minutter
Derfor har vi lavet denne guide, der hurtigt og nemt hjælper dig til at vælge det rigtige board. Vil du hurtigt have styr på det vigtigste kan du bruge vores lynguide, som fortsætter herunder, vil du derimod lære om alle detaljerne kan du scrolle lidt ned på siden og læse vores dybdegående guide.
Højde, vægt, niveau og kørestil spiller ind
De faktorer der afgør hvilket board man skal vælge er ens niveau, ens kørestil og hvilket terræn man bedst kan lide at køre på. Størrelsen på boardet afgøres af ovennævnte, samt ens højde og vægt
Vælg det rigtige snowboard – lynguide
Er du nybegynder eller øvet snowboarder, er der et par simple retningslinjer at følge, for at få købt det rigtige snowboard. Til at starte med kan det tit bedst betale sig at købe en snowboard-"pakke", hvor du både får board, bindinger og evt. støvler, i en samlet pakke. På denne måde er du sikret at alt dit udstyr passer sammen (har det samme flex mm.) og samtidig får du det typisk til en yderst fordelagtig pris.
Et snowboard koster lidt, men kan holde i mange år
For snowboards er ikke billige, men tilgengæld kan du uden problemer beholde dit board i 5-10 år, hvis du passer på det. Ligesom du også får meget mere ud af dine uger i bjergene, hvis du kender dit board. Har du ikke noget foretrukket terræn at køre i, skal du gå efter et all mountain board – det er bedst for de fleste.
Snowboardets længde er nem at bestemme
En tommelfinger regel siger at dit board skal gå dig til hagen ca., så størrelsen er rimelig nem at finde frem til, det er bare at tage målebåndet frem. Er du lidt mere til parken, kan du med fordel vælge et board der er lidt lavere – ca. til din skulder/topen af brystet, er du derimod mere til pudder-sne og off-pisten, kan du med fordel vælge et snowboard der er lidt højere og går dig til munden ca.
Vægten skal også lige tænkes ind
Ovenstående tommelfingerregel kommer man rigtig langt med, man skal dog lige være opmærksom på at vægt også har noget at sige. Er man let – en tynd/spinkel person, skal man vælge et lidt kortere board og er man tungere – en kraftig/robust person, skal man vælge et lidt længere board. Er man "meget gennemsnitlig" er det bare at følge ovenstående tommelfingerregel. Alt ovenstående er uddybet i de kommende afsnit.
Butikker der sælger snowboard og snowboard-pakker – som vi kan stå inde for
Klik på butikkens logo for at gå til deres udvalg af snowboard og snowboard-pakker. Alle butikkerne er nogle vi selv handler i og kan stå indenfor. Her får man gode boards, til rigtige gode priser.
Grundig guide til køb af snowboard: Snowboardets længde
Snowboard verdenen er blevet mere og mere populær de sidste par år, flere og flere får øjnene op for hvor fedt det er at suse ned ad bjergene på sit board og flere og flere skifter skiene ud med snowboard. I takt med den stigende popularitet er snowboard-udvalget også steget markant.
Mange forskellige boards
Der findes som sagt mange forskellige snowboards, som egner sig til snowboardere på forskellige niveauer. Når man skal vælge snowboard får man det der passer bedst til lige præcis én selv, ved at være realistisk mht. sit niveau, kørestil osv. Denne guide er udformet for at hjælpe dig med at vælge det helt rigtige snowboard, om du er nybegynder, let øvet eller meget øvet er lige meget.
Styr på længden
Til at starte med skal du finde ud af hvilken længde dit snowboard skal være. En gammel tommelfinger regel siger at stiller du dig ved siden af dit snowboard, skal din toppen af boardet være på højde med din hage. Der er dog flere nuancer når det kommer til længden.
Hvor på bjerget foretrækker du at køre?
Primært kan man sige at det kommer meget an på hvor man foretrækker af køre. Kører man mest off piste og freeride – altså i den bløde puddersne, anbefales det at man vælger et snowboard der er længere. Et længere snowboard giver dig mere stabilitet og fart og gør det nemmere at cruise igennem den bløde pudder sne. Tommelfingerreglen kan så hedde at ens snowboard skal gå én til omkring øjenhøjde, når man stiller sig ved siden af det.
Hvis du elsker parken og tricks
Bruger man derimod mest tid i snowparken/funparken og foretrækker freestyle, vil lige det modsatte være det bedste – nemlig et snowboard der er kortere og ikke så tungt og dermed er nemmere at lave tricks med og manøvre rundt på. Tommelfingerreglen her kan så hedde at ens snowboard skal gå én til lidt under skulderhøjde.
Hvis man vil stå på hele bjerget
Er man mere allround og foretrækker at køre lidt af det hele anbefales det at holde sig til den gamle tommelfinger regel om at ens snowboard skal gå én til hagen. Er du nybegynder kan det helt klart anbefales at følge denne tommelfingerregel, så har du god mulighed for at køre lidt af det hele og stille og roligt finde ud af hvad du foretrækker.
Personlige præferencer
Til sidst spiller personlige præferencer selvfølgelig også ind – ved du at du bedst kan lide at køre på et langt snowboard – så fortsæt med dét. Ved du at du bedst kan lide at køre på et kort snowboard – så fortsæt med det. Om man kan lide det ene eller det andet, er følgende skema en rigtig fin guideline til at vælge den rigtige længde på sit snowboard.
Find længden på dit snowboard i dette skema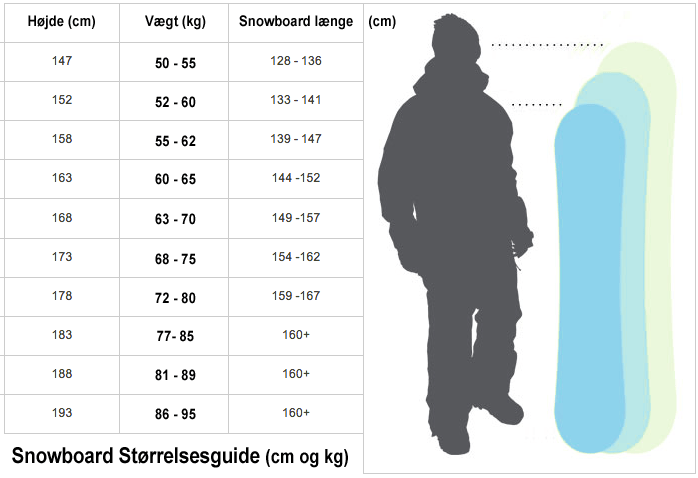 Bredden på et snowboard
Nu har du fundet den rigtige længde på dit snowboard – så langt, så godt. Men bredden skal også være den rigtige. Når det kommer til bredden tager man udgangspunkt i sin skostørrelse (størrelsen på sine snowboard støvler) og bestemmer ud fra denne hvilken bredde snowboardet skal have.
Skal passe med støvlerne
Dine støvler skal helst stikke en lille smule ud over kanten på dit snowboard – det giver én en bedre kontrol over boardet og gør at man har langt lettere ved at styre det. Det er dog vigtigt at ens støvler ikke stikker for langt ud over, da de så vil ramme sneen når man kører – også vælter man. Følgende skema kan du bruge som guide til at vælge et snowboard med den rigtige bredde. Bemærk at det ikke gør noget at der overlappes med én størrelse eller to.

Terræn
Når du køber et nyt snowboard set-op, er det vigtigt, at du overvejer hvilken type terræn, som du helst vil køre på. Takket være nyudviklede avancerede teknologier i snowboard-produktionen, er det muligt at producere vidt forskellige typer af boards, som passer til næsten alles krav.
Hvis du lige er begyndt, ved du måske ikke helt, hvad dine præferencer er endnu, men tænk over, hvad du godt kan lide, når du er ude på pisten for at blive bedre. At vide hvilken type terræn du kan lide, vil hjælpe dig til at vælge præcist det gear, som passer til dig. Der er en lille håndfulde forskellige typer af boards, der hver især kan klare flere typer terræner og kørestile. I det følgende vil de mest populære "kategorier" blive beskrevet, som meget gerne skulle hjlælpe dig med at finde din stil og dit board.
Du er en soul surfer. Du kan lide stejle bakker, dyb sne, og det at være udenfor lands lov og ret, gerne i høj fart. Hvad end du er en standard type, som faktisk godt kan lide de lækre stilede ture på pisterne, eller du hellere vil i off-pisten, så elsker du at spraye den hvide bølge af sne, som følger efter dig på bakkerne. Som freerider er der lidt forskellige muligheder; fra standard snowboards med de lidt bredere former, samt boards der er lavet 100 % til freeride – med de tilspidsede haler og svalehalerne.
Selvom udviklingen af disse specielle boards ikke har stået på i særlig mange år, så er man rigtig langt og der findes forskellige teknologier, som gør at man kan få et board, som giver den ultimative oplevelse. Generelt er et større og bredere board altså at foretrækker, hvis du er dedikeret til freeride.
Du kan lide det bedste fra begge verdener. Træer, præparerede pister, parken, puddersne, naturlige fald og hop – alt det sjove. Denne type boards passer til de fleste og det anbefales derfor også at de fleste vælger en all mountain model, som deres første. Disse boards vil være de bedste til mest forskelligartede terræn – til både begyndere og øvede.
Disse boards til alle typer terræn plejer at have en middel fleksibilitet for at give mere kontrol og stabilitet, og har ofte forskellige muligheder at stå på, og de kommer også i en retningsbestemt version til dem, der vil køre stærkt, eller en twin-version til dem, der gør hele bjerget til deres egen park park. Du må ikke lade ordet "Freestyle" skræmme dig væk, hvis du ikke vil lave tricks, det er blot for at sige, at disse boards kan klare næsten alt du kunne udsætte dem for. Disse boards er generelt en god løsning for de fleste snowboardere – og også tit disse man kan finde til en god pris.
Du oplever at det meste af din tid går i parkerne, på pipen eller på off-pisten, hvor du tager store hop. Du elsker at lave spins ved høje hastigheder, og du leger også lidt på rails og boksene. Disse boards har normalt en lignende eller blødere og mere tilgivende fleksibilitet i forhold til all-round boards, dog med en smule mere i kernen af brættet, end et normalt park/street board.
Et decideret freestyle-snowboard er til de lidt mere aggressive kørere, som har brug for mere fart, kontrol og "landingsplads", for at kunne klare de helt store hop. I Freestyle-boards ser du normalt det, der kaldes true twin eller directional twin former, som gør det muligt at lave nemme backside-tricks og klare de helt flade landinger og lidt skarpere kanter, samt en del andre fede ting.
Du kan ikke lide puddersneen; eller måske kan du godt lide den, og det her er blot dit andet board. Lige meget hvad, så vil du virkelig gerne vise dine tekniske færdigheder i parken, og du kører de mere urbane områder i gaderne. Du er en af dem der napper alle obsticles på den lokale bakke eller i din nabos have, hvor du kan køre på bokse, rails, hvorefter du tager 20 trapper på vejen til parkeringspladsen.
Disse boards giver dig præcis det du har brug for – Et meget blødt flex til den ultimative still, hvor du skubber dine evner til grænsen, med bløde kanter for at gøre det nemmere at komme ind og ud mellem forhindringerne, som en pro. Nu er det på tide at gå turen tilbage op ad trapperne og starte forfra!
Niveau: Find et board som matcher dine færdigheder
Hvad end du er en nybegynder eller en øvet boarder, finder du hurtigt ud af, at når man finder et board, som passer til sine evner, så giver det én de bedste forudsætninger for hurtigt at blive bedre. Så tag dig lidt tid og tænk over hvordan dine evner egentlig er – bare vær ærlig, det får du mest ud af. Derefter kan du finde et board som komplimenterer dine evner, og du vil være klar!
Basic
Du er lige startet og er ved at være klar til at give dig i kast med denne nye udfordring. Se efter kvalitet og det meget basic/all mountain snowboard, som er billigt og tilgivende på pisten. Det giver dig muligheder for at afprøve de forskellige stile og ikke "ødelægge" et board til mange tusinde kroner, hvor du alligevel ikke vil kunne mærke køreforskellen, i forhold til et billigt. Vi anbefaler også, at man modtager et par timers undervisning fra en instruktør – det er pengene værd.
Øvet
Du har været afsted et par gange og føler dig sikker på pisterne og måske lidt i parken og i pudder-sneen. Har du lyst ti at prøve noget nyt, burde du have evner nok til at få noget ud af at købe et board der matcher det terræn du vil køre. Har du ikke noget foretrukket terræn, men er til lidt af det hele, er et all mountain board også det bedste valg for dig.
Er du dog en lille smule mere til den ene stil/det ene terræn, kan du med fordel vælge et board, hvor længden og højden er tilpasset – kan du bedst lide parken skal du vælge et board der er lidt mindre og lidt smallere, end hvad man normalt ville vælge, er du derimod mest til pudder-sne, skal dit board være lidt højere og bredere. En vigtig pointe er her at du sagtens vil kunne bruge dit board alle steder på bjerget, det vil blot være bedst når du kører det du elsker.
Ekspert
Du har efterhånden kørt i noget tid, og du ved, hvordan man styrer bjerget og boardet. Du er nået til et punkt, hvor du kan sætte pris på de forskellige små nuancer i et bræt, og du bør derfor begynde at lede efter Cadillac'en blandt snowboards. Boardet skal også helst være som skræddersyet til dine evner, så du kan forsætte med at styre.
Butikker der sælger snowboard og snowboard-pakker – som vi kan stå inde for
Klik på butikkens logo for at gå til deres udvalg af snowboard og snowboard-pakker. Alle butikkerne er nogle vi selv handler i og kan stå indenfor. Her får man gode boards, til rigtige gode priser.