De rigtige snowboard bindinger er lige så vigtige som det rigtige snowboard. Bindingerne bruges helt lavpraktisk til at holde dine fødder spændt fast på dit snowboard og sørger altså for at du kan suse nede af pisterne så smooth og sikkert som overhovedet muligt. Der er flere faktorer der spiller ind, når man skal vælge de rigtige snowboard bindinger – for mange er det ikke bare lige til. Derfor har vi udformet denne guide der hjælper dig til at vælge de helt rigtige bindinger. I det følgende finder du både en lang og grundig guide, der lærer dig (stort set) alt om snowboard bindinger, samt en kort og komprimeret guide, hvis du ikke gider læse hele den lange guide.
Vælg de rigtig snowboard bindinger – lynguide
Ligesom med selve snowboardet er der også mange forskellige typer af snowboard bindinger, der hver især passer til de forskellige kørestile – freestyle, park, free-ride, off-piste og all-mountain. Bindinger kan se meget forskellige ud, men det er ikke kun udseendet der adskiller de forskellige fra hinanden, det er både konstruktionen og flex "niveauet" – bindingens "bøje-evne".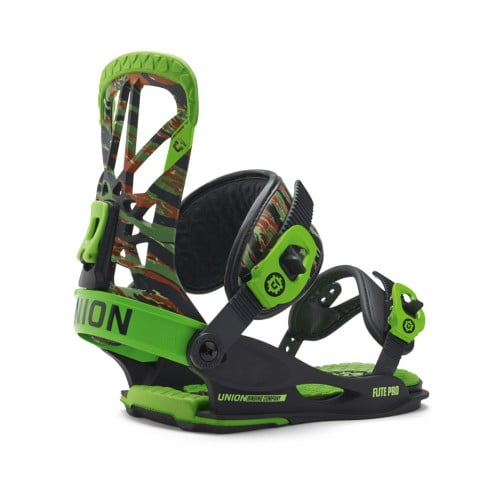 Man kan få bløde bindinger, hårde bindinger og en mellemting – man kan kalde dem mellem-hårde bindinger. Som nybegynder og øvet, ja faktisk til alle der ikke kører alpin snowboard (snowboard med 100 % fokus på fart på pisterne, intet pudder-sne eller hop/freestyle), er det mest optimalt at anskaffe sig bløde eller mellemhårde bindingerne.
Kører man udelukkende i parken og freestyle med en masse box-sessions, tricks og hop er det bedst at vælge bindinger der er helt bløde – har et højt flex. Kører man derimod pudder/off-piste er bindingerne med mediumflex de bedste. Og er man til lidt af det hele, er mediumflex også det bedste valg.
Det er også vigtigt at man matcher sine bindinger med sine snowboard støvler – sådan at hvis man køber "bløde" bindinger med høj flex, vil det give den bedste oplevelse også at købe støvler der er bløde. Køber man hårde støvler, vil man få den bedste oplevelse med de lidt hårdere bindinger – "medium" flex. Vil du være helt sikker på at vælge de rigtige bindinger, kan du læse denne guide.
Butikker der sælger bindinger – som vi kan stå inde for
Disse butikker kan vi stå indenfor og de sælger alle gode bindinger til rimelig priser. Nogle af butikkerne har større udvalg end andre. Klik på billedet for at gå direkte til den enkelte butiks udvalg af bindinger.
Grundig guide til valg af snowboard bindinger
Når du køber et sæt snowboard bindinger, kan det nogle gange føles som en nemt valg, men du gør alligevel klogt i at vælge med omhu, da det vil have større indflydelse, end man lige skulle to. Der er mange bindinger at vælge i mellem, og de ser ud til at være ret ens; dog er det ikke tilfældet, og teknologien er faktisk meget avanceret, og bindingerne kan gøre en stor forskel på kontrollen og følelsen med boardet. Brug de følgende informationer til at guide dig gennem de mange muligheder.
Note: Strap-ins er den mest brugte type binding, og det meste af informationen i denne artikel er relateret til denne slags bindinger. Der er dog et par beskrivelser og forslag hen mod slutningen, som giver gode alternativer. Kig informationen igennem, hvis du ønsker at vide mere om bindinger.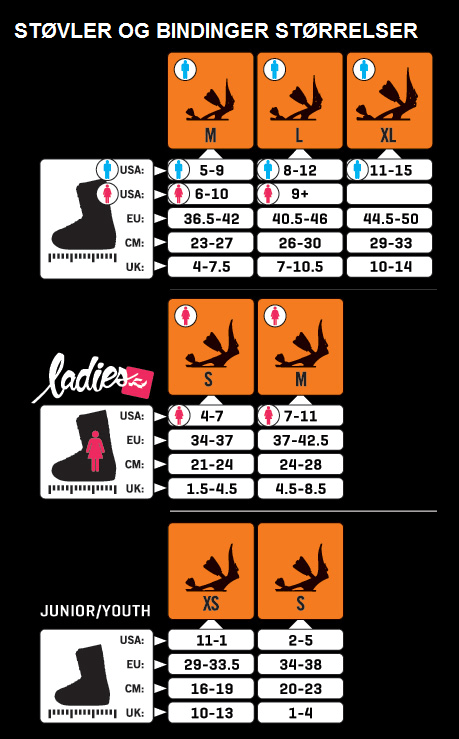 Størrelse på snowboard bindinger
Det er vigtigt at man køber sine bindinger i den rigtige størrelse. Størrelsen på bindingerne skal både passe til ens støvler og til ens snowboard. I skemaet ses hvad størrelse binding man skal vælge, ud fra hvad størrelse støvler man bruger. Bemærk at størrelsen på støvlerne overlapper – en mand der bruger str. 41, kan eksempelvis både bruge str. s og m bindinger. I dette tilfælde vælges snowboard binding størrelsen ud fra personens højde og vægt – er man høj og tung, vælger man str. m, er man lille og let, vælger man størrelse s. Binding-størrelsen skal man bruge når man skal vælge sit board – bredden på dette skal nemlig passe med ens bindinger. Så har du allerede et board, skal du måle bredden på det, og vælge en binding-størrelse der passer.
Stropperne på snowboard bindinger
Stropper er essentielle for at hole dine støvler på plads og sørger for, at de sidder perfekt I bindingerne. Fremskridt i teknologien har gjort at materialerne og designet er blevet mere komfortabelt og støttende, samtidig med at nye modeller har fjernet irriterende trykpunkter. Der er mange forskellige former for stropper, med blandt andet polstring til foden og en ergonomisk justering, som fjerner nogle af de nævnte trykpunkter. Eksempelvis har et relativt nyt fremskridt, som er en strop til tåen af støvlen, gjort at din fod er mere sikker og du drejer bedre når du står på hælen.
Du skal altid prøve dine bindinger med de støvler, som du vil bruge, før du går ud til bjergene. Bare sæt støvlen fast, som du ville normalt og vip frem og tilbage, som du ville på bakken i et minut eller to – fra hælkant til forfoden og tilbage. Hvis du mærker nogen smerte fra stopperne, når du strammer bindingerne – tag dem af; det kræver kun 1 kg af pres for at stoppe blodcirkulationen til foden, så vær sikker på, at dine bindinger og støvler passer perfekt til din fods former, og lad være med at stramme dem for meget.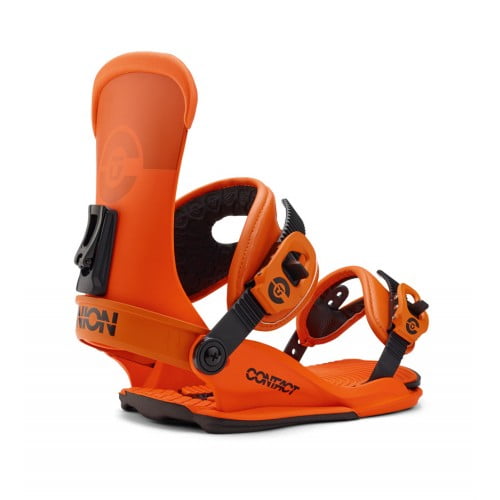 Skinnerne på snowboard bindinger
Enden på stopperne passer ind i nogle skinner, som man derefter kan justere til at passe, så støvlen sidder, som man gerne vil have det. Skinnerne er normalt enten lavet af plastic eller metal (metal er mere hårdfør), og de bør være store nok til, at man nemt kan tage fat i dem med handsker på. I forhold til hvor meget man bør stramme dem, så skal man finde en god balance mellem tryk, som man bruger til kontrol, og løshed, som er nødvendigt for at blodet kan flyde frit til tæerne.
Heel cups
Heel cups holder din hæl ind i den bagerste del af bindingen. Se efter bindinger med heel cups, som er lavet med et rillet, fastholdende materiale (så som gummi), som hjælper med at låse den bagerste del af din fod på plads, da "hælløft" kan være et problem, både i bindingen og i støvlen.
Highbacks
Den store plastikbinding, som indkapsler din læg er kendt som en highback. Dens formål er at forøge støtte og kontrol, specielt når man læner sig bagover ind i et sving, hvor man står på hælen. For freestyle boardere (pipe/park), er det bedre med en kort highback, som giver mere mobilitet, hvilket er nødvendig for at lave tricks. Hvis du er mere til normal kørsel bør du have en højere highback (dog bør den aldrig være højere end toppen af dine støvler) for bedre kontrol under høj fart og skarpe sving.
Korte highbacks når lige op over anklerne, mens de højere versioner når højere op til læggen. Derudover vil en highback ofte have en mekanisme, som får dig til at læne dig en smule fremad for at gøre dig komfortabel og give dig den perfekte statur på dit board. Jo mere fremadlænet du er, desto mere vil du kunne styre brættet med fine bevægelser, så tilpas dem til personlige præferencer.
Baseplates
Baseplates er laget mellem din fod og brættets overflade. De fleste bindinger har baseplates, selvom der er nogle producenter, som laver bindinger til freestyle uden disse plader, og det er specielt til folk som vil have en bedre følelse af deres board. Baseplates er lavet i enten metal eller plastik, og hvorvidt man skal vælge det ene eller andet, er et spørgsmål om personlige præferencer – igen ens kørestil. Hvis du kan lide, at "det" giver sig lidt, så skal du vælge en binding med baseplates af plastic, men hvis du foretrækker at stå helt fast, med en hård overflade under dine fødder, bør du gå efter metalbindinger. Gode bindinger vil desuden have polstring på toppen og under baseplates, hvilket giver en komfortable "pude" for dine støvler, som gør det rarere at lande hårdt.
Materialer
Plastic (bedst til Freeride). Disse bindinger er ekstra stive og vejer næsten ingenting, men de er måske for stive for nogle boarders.
Metal (bedst til freeride). Disse bindinger er også ekstra stive og vejer næsten ingenting, men de er måske for stive for nogle boarders.
Plastic baseplate med metal hælform (god til alle kørestile). Disse bindinger er fleksible og stive, der hvor det er nødvendigt, men du kommer tit til at betale mere for denne type.
Karbon Highback (bedst til freeride). Disse bindinger er ekstra lette og meget følsomme, men de er meget dyre, og de kan være for stive og er ikke så holdbare.
Bindingerne skal passe til boardet
Bindingerne, som du køber, skal selvfølgelig passe til mønstret på dit board, så de kan sidde sammen. Heldigvis passer de fleste bindingerne, til de fleste boards. Det er kun Burton og et par andre brands der har lavet nogle specielle boards og bindinger, som ikke passer med "almindelige" boards og bindinger. Men det fremgår tydeligt af beskrivelsen på disse, så det er bare at holde sig fra dem. Yderligere er det vigtigt at bredden på boardet passer til størrelsen på bindingerne, således at der ikke er noget udhæng fra bindingerne – ud over siden af boardet. Så se efter, om bredden af boardet passer med længden på bindingerne.