På denne side kan du læse en dybdegående guide, der gør dig i stand til at vælge de helt rigtige snowboard bukser. Har du derimod ikke mod på alt det læseri har vi nedenfor lavet en lynguide, som sætter dig ind i de vigtigste ting og gør dig i stand til at købe de helt rigtige bukser til snowboard. Til sidst har vi listet de butikker/webshops vi anbefaler at handle i, så man er sikker på noget udstyr der er i orden.
Lynguide til valg af snowboard bukser
Snowboard bukser er specialdesignede udendørsbukser, som er lavet 100 % til snowboarding. Der er altså taget de specielle forbehold, som snowboarding kræver. Når man skal vælge snowboard bukser, er det vigtigt at man vælger nogle der er lavet til formålet og ikke bare almindelige overtrækkere eller skibukser.
Vandtæthed og åndbarhed er vigtigt
Derudover skal man kigge efter egenskaberne åndbarhed og vindtæthed. Disse er altid opgivet i tal, i tusinde. F.eks. 8000/8000. Det anbefales at man ikke går under 10.000/10.000, men et hak op, gør bestemt ikke noget.
Hellere for store, end for små
Til sidste er det vigtigt at man ikke køber bukserne for små, hellere et nummer for store, end for små, så der er plads til at "bevæge" sig friti dem. Det samme gør sig gældende når det kommer til snowboardjakken – der skal være plads. Følger du disse korte råd, er du godt rustet til at få foretaget et køb du ikke fortryder.
Butikker der sælger snowboard bukser – som vi kan stå inde for
Klik på butikkens logo for at gå til deres udvalg af snowboard bukser. Alle butikkerne er nogle vi selv handler i og kan stå indenfor. Her får man kvalitetsudstyr til en fair pris.
Grundig guide til valg af snowboard bukser
Den egentlige grund til at have gode snowboard bukser, er den samme som for alt andet udendørs tøj: For at man kan holde sig varm, tør og komfortabel, samtidig med at man er beskyttet mod slag, slid og andre ting udefra. Når det kommer til selve bukserne er trelagssystemet det mest benyttede, da det giver de bedste forudsætninger for at holde en jævn temparatur – og dermed hverken svede eller fryse.
De forskellige lag
Kort fortalt er det første lag, eller "baselage", det inderste lag og altså det eneste lag der er i kontakt med huden. Andet lag, eller isolationslaget, skal transportere fugt væk fra kroppen, og så skal det naturligvis også isolere kroppen, ved at holde på varmen fra dig selv. Det tredje lag, eller det ydre skjold, er laget som er i direkte kontakt med omgivelserne; sneen og de kolde temperaturer. Derfor bør det være vand- og vindtæt og på samme tidspunkt gøre det muligt for kroppen at "trække vejret" og lade fugt forlade stoffet.
2 eller 3 lag
De fleste snowboard bukser er enten lavet med 2 eller 3 lag – De er lavet med et vand- og vindtæt yderlag, også er det isolerende og absorberende 2. og 3. lag nogle gange "mixet" sammen til ét lag, så selvom nogle snowboardbukser egentlig kun har 2 lag, får man effekten af 3 lag. For mere information kan du læse artiklen omkring 3-lagssystemt.
Snowboard bukser kombinerer mest 2 eller alle 3 lag. I 3-lagssystemet til et stykke snowboarding tøj. De fleste bukser vil have en vandtæt ydre skal med et tyndt, men effektivt, isolations lag, som også stadig lader kroppen ånde. Dette isolationslag vil oftest også kunne skille sig af med fugt. Er man afsted i lidt varmere uger, kan man derfor vælge kun at bruge snowboard bukserne og i koldere uger, vil man nok også vælge et ekstra lag under.
Ting at være opmærksom på inden man køber
Først og fremmest skal du bruge snowboard specifikke bukser. Skibukser eller andre bukser beregnet til udendørs aktiviteter er et alternativ i nødstilfælde – normale bukser som jeans er ikke. Selv hvis du kun er begynder, bør du ikke lave den fejl at gå ud i dine normale bukser.
Husk på at begyndere nok kommer til at bruge meget tid på deres knæ eller bagdel. Hvis du har jeans på, vil sneen smelte og trænge igennem, fryse, og smelte igen og igen, indtil du kommer ind og får dig tørret ordentligt. Det er ikke godt at lære noget nyt, når man er kold og våd. Det er nemmere når man er varm, tør og komfortabel.
En dag på snowboard involverer højst sandsynlig et par styrt. Se derfor efter snowboard bukser, som har ekstra beskyttelse på de områder, der ofte tager de største slag: Dine knæ og din bagdel. Beskyttelse og foring vil ikke kun mindske skaden på din krop, det vil også mindske chancerne for at dine bukser går i stykker og dermed ikke længere er vandtætte.
Brug almindelig sund fornuft: billige snowboardbukser af mærkelige brands vil potentielt efterlade dig uden nogen bukser tilbage efter en lang dag på pisterne. Hvis du er bare en lille smule seriøs omkring snowboarding, bør du undersøge markedet og købe rigtige snowboard bukser, fra et specialiseret mærke, som de butikker vi anbefaler fører.
Gå efter funktionalitet over udseende. At stå på snowboard er blevet en cool"sport, hvor mange snowboardere er mere interesseret i at være cool og se godt ud, end i at være komfortable og godt beskyttede. Heldigvis kan man med de mange valgmuligheder godt både se godt ud og være godt beskyttet med høj funktionalitet i tøjet.
Der er 3 større karakteristika for snowboarderens tøj, som købere bliver nød til at forstå før man handler. Producenterne af tøjet vurderer deres tøjs evne til at beskytte fra vand og vind så vel som deres evne til at ånde. Nedenfor finder du en forklaring af hvert af de tre elementer.
Vandtæthed
Isoleret eller ej, utøj designet til snowboarding burde have en vis form for vandtæthed, for at beskytte snowboarderen fra regn og sne, som man oplever på bjerget. Sagt simpelt; jo mere ekstremt vejret er, desto mere bør man fokusere på at finde vandtæt grej. I de fleste tilfælde er producenterne af snowboard tøj gode til at bruge nylon og polyester, sammen med gode kvalitets-membraner, som har gode vandafvisende egenskaber. Gore-tex er også et godt eksempel på et materiale der er utrolig godt, da det er nærmest uigennemtrængelig.
Kig på tallet
Hvor vandtæt de enkelte bukser er, bliver angivet i et tal, som angiver hvor mange millimeter regn stoffet kan holde til over en periode på 24 timer. Det betyder at en jakke med en vandtæthed på 20.000 mm vil være noget mere vandtæt end en med en karakter på 10.000 mm.
Gå aldrig under 8000 mm
Normalt ligger ordentlige snowboard bukser med indenfor 8.000 også op til 30.000. Vi anbefaler at man finder sig nogle hvor vandtætheden er mellem 10.000 og 20.000. Selvfølgelig er chancerne for, at du vil møde 10.000 mm regn på en dag relativt små, men ting som kraften i regnen kan have betydning og gøre tøjets evne lidt dårligere.
Ekstra fokus på sygninger
For at sikre, at der ikke er selv de mindste huller, når tøjet syes sammen, sørger producenterne ofte for at forsegle sømmene i tøjet, så de er sikre på, at fugten ikke kan krybe ind. Definitionen af hvordan den vigtige forsegling omtales varierer fra producent til producent, men typisk bliver en forsegling af de vigtigste og mest udsatte områder på bukserne (bagdelen og knæene og den ydre søm) omtalt som "critically taped seams".
Gå efter "fully taped seams"
Denne type forsegling er god nok til de fleste forhold, men ofte vil komplette forseglinger / "fully taped seams" give den højeste beskyttelse, hvilket kan være rart under de værste forhold. Hvis du leder efter et mere sommerligt par bukser, eller bare noget at have på, på de mere varme dage, kan du gå efter tøj, som blot har en vandafvisende effekt.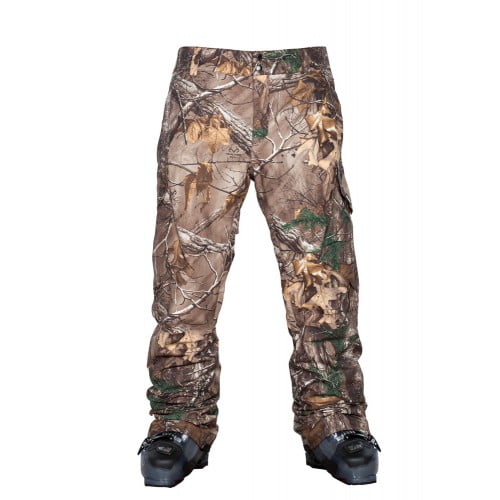 Disse typer af snowboard bukser er belagt med en membran som kæmper mod regnen, men den vil ikke give ligeså meget beskyttelse som en, der er vandtæt. Forskellen ligger i åndbarheden. Vandtætte materialer er svære at ånde igennem for huden i forhold til vandafvisende stoffer. Efter noget tid sker det dog, som med alt andet tøj, at på trods af den oprindelige vandtæthed, vil tøjet bukke under for sved og generelt slid, som følger med sporten og dermed bliver gennemtrængeligt for vand/sne. Når stoffet bliver gennemtrængeligt, er det på tide af få sig et par nye bukser.
Åndbarhed
Åndbarheds-ratingen er ofte sat sammen med evnen til at kunne afvise vand, så man kan give dig en ide om beskyttelse og komfort, selv når man står i dårligt vejr. Snowboard buksernes åndbarhed er normalt skrevet i gram (som eksempelvis: 10.000 g), hvilket er en smule simplificeret. Faktisk er enheden g/24timer/m² – altså mængden af vanddamp, som kan gå igennem en kvadratmeter af stoffet på 24 timer.
Kig på tallet og gå aldrig under 8000
Denne måleenhed refererer til fugt, som sved og damp; når de skabes inde i tøjet, bliver de til vanddamp og går gennem porerne, og på den måde køler de snowboarderen. Jo højere åndbarheden er, desto mindre fugtighed kan du forvente, at der bliver opbygget inde i dit tøj. Normalt ligger ordentlige snowboard bukser indenfor 8.000 til 30.000. Vi anbefaler at man finder sig nogle hvor åndbarheden ligger mellem 10.000 og 20.000 – jo højere, jo bedre.
Vindtæthed
Vindtæt eller vindresistente stoffer er lavet ved at væve fibrene af ens materiale lidt tættere, så man kan undgå, at vinden kan gå igennem tøjet og nå personen, som har det på. En dag på pisten er måske med klart vejr, men en intens vindafkøling kan have stor betydning på temperaturen, som du mærker ude på bakken. Vinden kan ofte ramme bjergsiden med høje hastigheder, så det er en god ide at investere i tøj af en hvis kvalitet, så man er beskyttet og holder sig varm og kan forlænge sin dag på pisten. Vindtætheden er ikke opgivet på nogle bestemt måde, her gælder det bare om at holde sig fra de billige snowboard bukser.
Butikker der sælger snowboard bukser – som vi kan stå inde for
Klik på butikkens logo for at gå til deres udvalg af snowboard bukser. Alle butikkerne er nogle vi selv handler i og kan stå indenfor. Her får man kvalitetsudstyr til en fair pris.